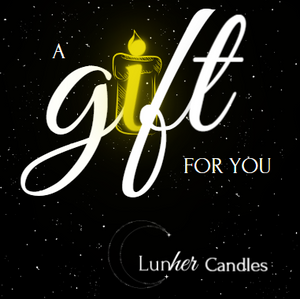 Luxury Coconut Crème Wax Candles
All Lunher Candles are handcrafted with all natural c
oconut wax that is gluten free, toxin free, paraben free, phthalate free and come from renewable sources.  The crackling wooden wicks in our Lunher Candles are eco-friendly, clean-burning, made from FSC Certified Wood, and made in the USA.
_________________________
Net weight: 6.5 ounces (184 g)
Burn time: about 30 - 40 hours
_________________________
Net weight: 10 ounces (283 g)
Burn time: about 55 - 65 hours
_________________________
Orders including jar candles feature complimentary: 
Lit by Lunher matches to spark your experience 
A 

Lun

her Candles tealight sample
6.5 ounce candles are crafted with sleek metal tin and a removable label as shown; 10 ounce candles are crafted with a clear glass jar, black metal lid, and label as shown. 
Autumn Equinox: apple + cider + vanilla
Blazar: coconut + green leaves + cedarwood
Berry Galore: citrus + jasmine + black tea
Brighther: camphor + berry + sage
Callisto: peach + amber + vanilla
Cassio: pear + ylang ylang + apricot wood
Coziher: eucalyptus + green apple + pinewood
Crescent it Lovely: pineapple + green leaves + sage
Full Me Up: sweet lemons + rum tonka beans + vanilla
Harvest Moon: pumpkin + brown sugar + nutmeg
it's Bananas: banana + nutmeg + vanilla
Jupiter: saffron + black currant + patchouli
Keep it Juicy: citrus + Lemon + Mandarin
Merriher: ginger + maple syrup + brown sugar
New to You: red currant + orange + grapefruit
Nice to Meet Chai: cinnamon + pumpkin + vanilla
Orion: citrus + sweet plum + amber
Quarter Past Twelve: lavender + sandalwood
Retrograde: nectarine + musk + sandalwood
Sleigh all day: orange + cypress + pine
Spiked Apple: apple + maple + bourbon
Sugared Moon: strawberry + raspberry + freesia
Trips to Paradise: coconut + sandalwood + vanilla
Vega: cassis + red currant + lavender
Wrapped in Clouds: cotton + linen + sandalwood
CANDLE CARE + TIPS
Burn your candles for 2 - 3 hours on its initial burn.  Always allow a full melt pool to form. 
Trim wick to 1/8" - 3/16' before each burn.
Do not burn your candle for more than 4 hours at a time.
Never leave your candle unattended when burning and keep away from children & pets.